Does Asperger's Disorder have you in a box?
(Or are you the parent of a young adult with Asperger's Disorder who is worried because your son or daughter is entering young adulthood and is under-prepared to move forward and transition successfully? ?)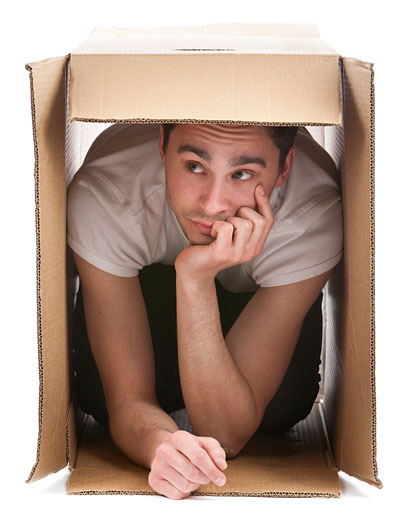 It's not uncommon for young adults with Asperger's Disorder to need more supports in adult living. Many people with Asperger's Disorder have deficits in some of the Executive Functioning capacities. These include difficulties with self-activation, prioritization, time-mapping, organization, and problem solving. Despite intelligence and real effort, these young adults generally experience formidable obstacles beyond the 'norm'. Without help, they may fail in their efforts towards independence.
How does Asperger's Disorder affect young adults?
They may have difficulty anticipating consequences due to challenges with imagining how present actions (or inaction) could affect the future outcome.
They may feel alienated and isolated due to difficulty with social-communication and initiating connection with people.
They may underperform in college due to difficulty with organizing and prioritizing their work so it is turned in on-time and is aligned with college-level quality expectations.
They may have difficulty managing their anxieties or depressive times, and give up on goals that seem to take too long to reach.
They may lose jobs because some do not have access to the "hidden curriculum" of socially expected behaviors in the workplace.
They may have challenges in self-care such as hygiene, getting exercise, and eating a variety of nutritious foods.
Can you relate? Are you feeling under-prepared?
Does that list of challenges describe you and your life? If you struggle with Asperger's Syndrome, you may also lack motivation to do anything about it. But something brought you here. Was it a desire to find a way to a better future? Or perhaps just a curiosity for answers and practical solutions?
Or parents, if that's you who's reading this, are you tired of trying to 'launch' your young adult by yourself? Are you looking for support and help with parenting your young adult as they move into more independence?
In any case, we can help.
Introducing synchronized support
Executive Functioning Deficits are a part of Asperger's Disorder and Autism Spectrum Disorders. Executive Functioning deficits impact every aspect of one's life, from the emotional and the psychological to the practical. To address the full continuum of those needs we developed a support system that combines therapy with coaching. We call it Insync Support.
When you get help that syncs together an Asperger's coach for "live" problem solving and guidance with a clinical psychologist at the ready to help you manage Asperger symptoms, you finally get the ideal kind of support to maximize your efforts and reach your goals – maybe even in ways you never thought were possible.
Are you ready to accept help?
In fact, many of the traits that characterize Asperger's can be positives. Traits such as focus, attention to detail, 3 dimensional thinking and more can be incorporated into a new, more powerful you. And with Insync Support by your side, the you that you would like to become is closer than you think. Why not call for a free consultation? We'll tell you all about it.